THE PICKLE CHALLENGE
Making Positive Attitudes Fun and Contagious

The Pickle Challenge for Charity
The Pickle Challenge is really quite simple for something so impactful. Employees bring in decorated pickle jars and start fining each other one (1) quarter for every time they catch a coworker whining or complaining in the workplace. This simple act mobilizes and empowers employees to actively address disengagement and toxic emotional negativity in the workplace. Want to try it?


 I want to take the Pickle Challenge for Charity on my own
Click here to view the video (and bop to the music) of the Carilion Clinic pickle jar decorating contest entries. Make sure your speakers are on (unless the boss is around :-)!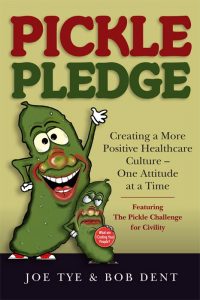 Pickle Pledge book by Joe Tye & Bob Dent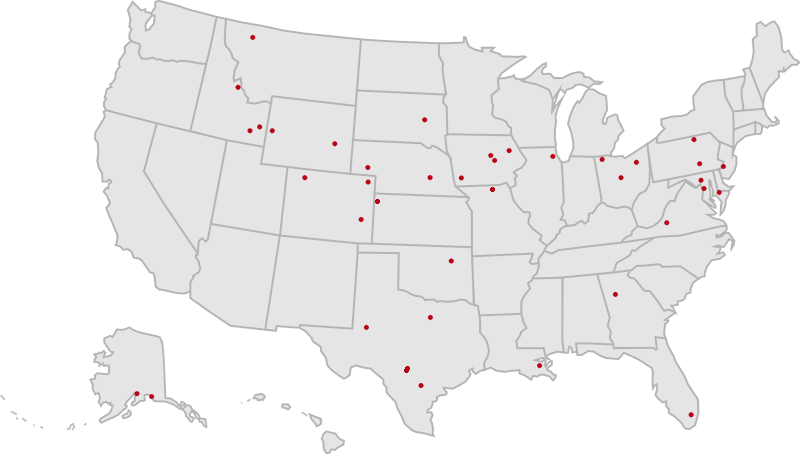 Participating Organizations in The Pickle Challenge for Charity
Putnam County Memorial Hospital, Unionville, MO
Tri-State Staffing, Goodland, KS
Methodist Hospital, San Antonio
Methodist Children's Hospital, San Antonio
Midland Memorial Hospital, Midland, TX
The Guthrie Clinic, Sayre, PA
Community Hospitals and Wellness Centers, Bryan, OH
Grinnell Regional Medical Center, Grinnell, IA
Caribou Hospital, Soda Springs, ID
Steele Memorial Medical Center, Salmon, ID
Star Valley Medical Center, Afton, WY
Prowers Medical Center, Lamar, CO
Kalispell Regional Healthcare, Kalispell, MT
Memorial Hospital of Converse County, Douglas, WY
Piedmont Fayette Hospital, Fayetteville, GA
Prestige Care, Anchorage, AK
Sidney Regional Medical Center, Sidney, NE
Fillmore County Hospital, Geneva, NE
The University of Ohio College of Nursing, Columbus, OH
Robinson Hospital, Ravenna, OH
Advocate Lutheran General Hospital, Park Ridge, IL
Health West Inc., Pocatello, ID
Huron Regional Medical Center, Huron, SD
Iowa Veterans Home, Marshalltown, IA
Kennedy Health, Voorhees, NJ
Otto Kaiser Memorial Hospital, Kenedy, TX
Wellspan Health, York, PA
Carilion Clinic, Roanoke, VA
Cordova Community Medical Center, Cordova, AK
The Memorial Hospital at Craig, Craig, Colorado
Piramal Pharma Solutions, Ontario, Canada
Kennedy Krieger Institute, Baltimore, MD
Becker Morgan Group Inc., Salisbury, MD
St. Francis Hospital South, Tulsa, OK
Regional Medical Center, Manchester, IA
Melissa Memorial Hospital, Holyoke, CO
Children's National Health System, Silver Spring, MD
Homestead Hospital, Homestead, FL
Texas Health Harris Methodist Hospital Southlake, Southlake, TX
Children's Hospital, New Orleans, LA
Shenandoah Medical Center, Shenandoah, IA
Download the Pickle Pledge

Download Chapter 13 of The Florence Prescription – The Pickle Challenge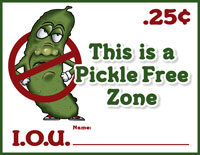 What's your story?
How are you using the Pickle Pledge? Email & let us know & we'll feature your organization online. Email: [email protected]