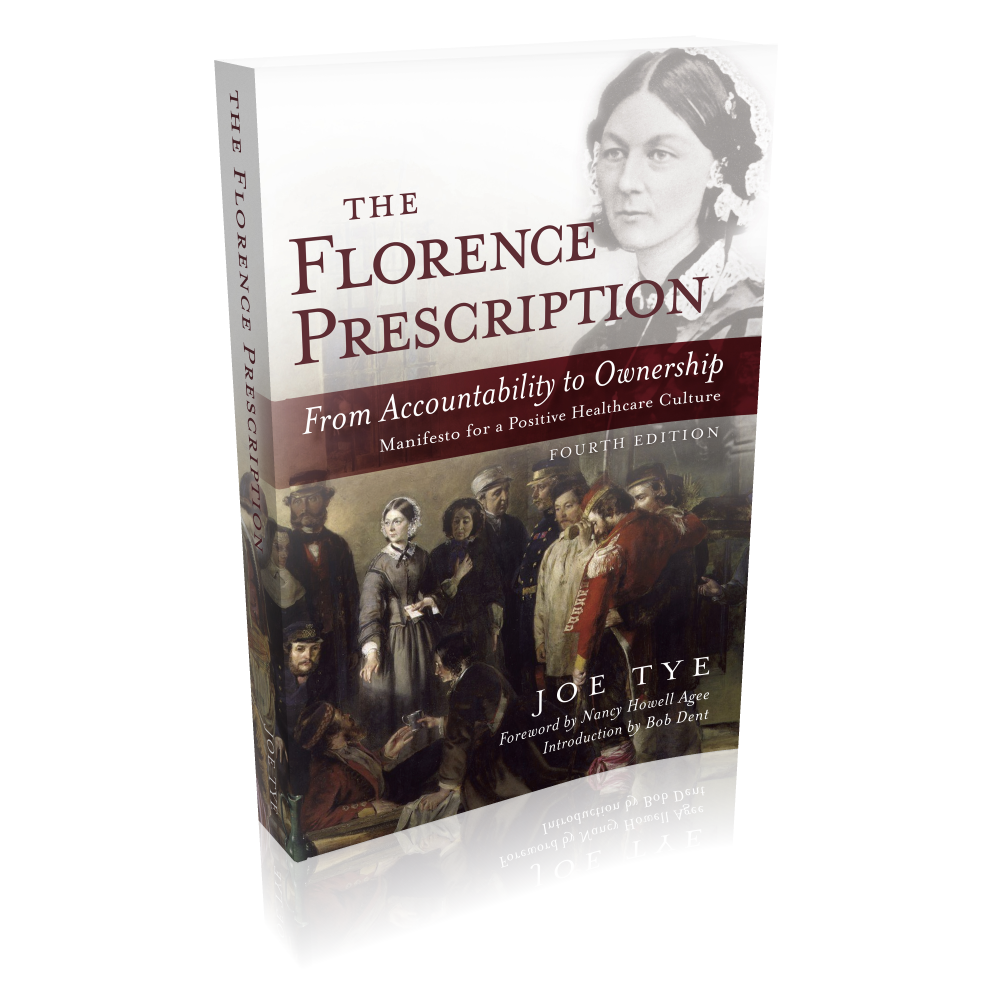 Give the gift to your people that is also an investment in your organization.
With more than 500,000 books in over 1,000 healthcare organizations,
The Florence Prescription
is a manifesto for a more positive healthcare culture. Start now by giving every employee
The Florence Prescription
to launch an organization-wide movement for a more positive and productive culture of ownership.
At just $5 per book
The Florence Prescription
is the gift to your people that is also an investment in your organization.
Visit our Resources section
for a FREE study guide, Certificate of Commitment, webinars and more.
Custom editions of the book are available.
Click here to see Examples of Executive Forewords.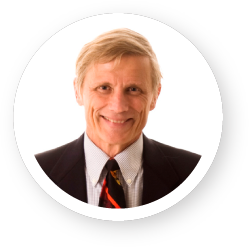 Invite Joe Tye,
CEO of Values Coach, to inspire and inform your organization. Joe, a passionate and humorous keynote speaker, trainer, and consultant helps hospitals, corporations and associations stimulate a caring culture of ownership. Invite him to your next event.
Download More Information>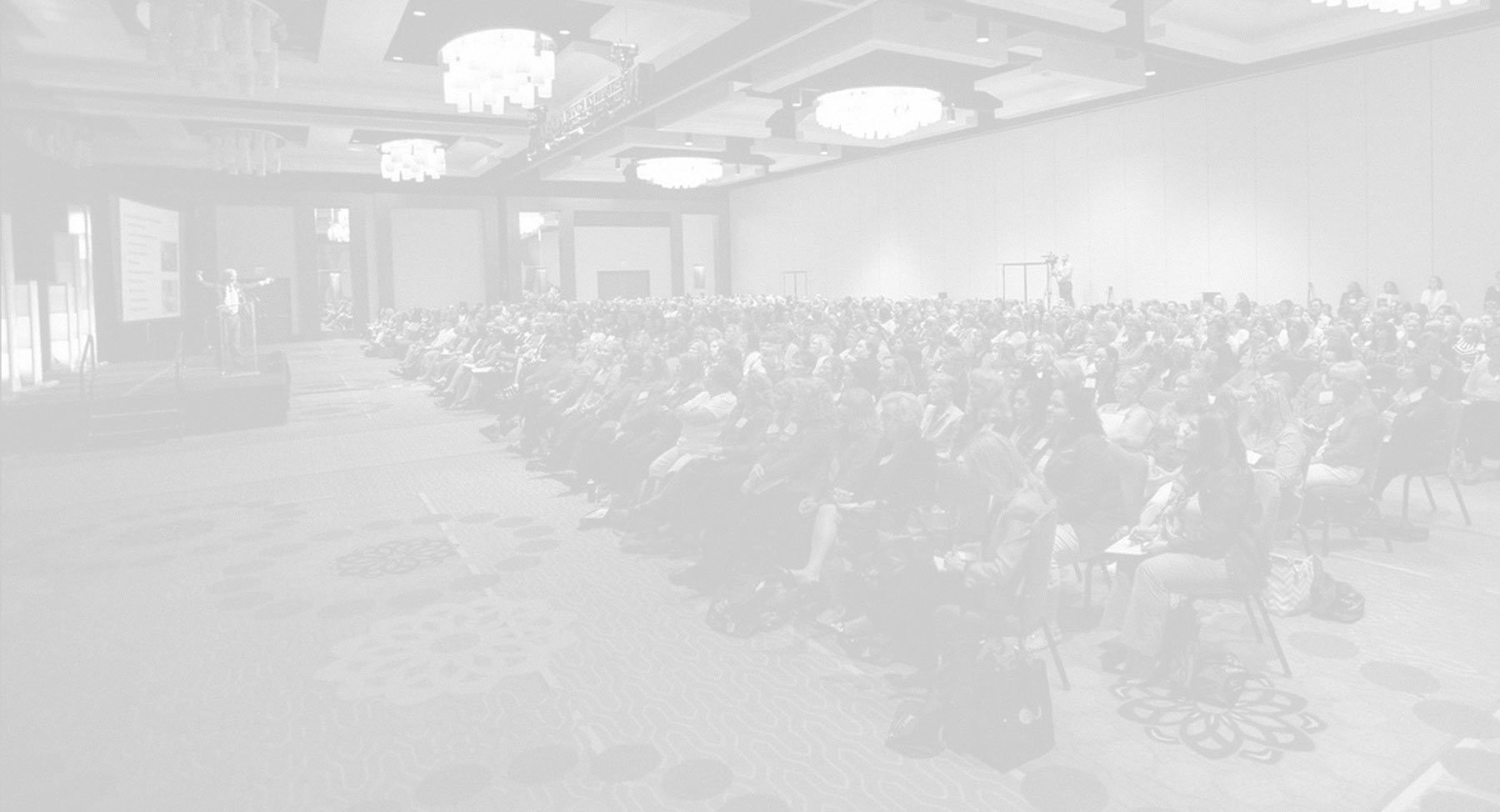 "The Florence Prescription is an engaging and important book. Drawing on the extraordinary life and work of Florence Nightingale, this creative book underscores the timeless goals and values that have inspired generations of healthcare professionals - and demonstrates clearly why they are timeless and directly pertinent to the contemporary healthcare environment. Governing boards, clinicians, executives, and their associates in hospitals and other healthcare organization face daunting challenges today. Needs are boundless; resources are scarce. However, we all know, as did Florence Nightingale, that - by working together in creative ways - we can employ our resources more effectively and, in doing so, serve our patients, families, and communities better. This is, indeed, our shared duty and responsibility."

"The Florence Prescription is a delightful read because of the compelling case it makes for deploying the enduring and profound strategies 'the first professional hospital administrator – Florence Nightingale' made in her work almost 100 years ago. Her masterful blend of compassion, courage and discipline changed the lives of countless soldiers and can be an inspiration for healthcare leaders today. Part fiction, part reality, The Florence Prescription is fun to read and then pass on to all your colleagues."

"The Florence Prescription speaks to the heart of changes that must occur in hospitals. In prescribing the eight essential characteristics of a culture of ownership, Florence doesn't let anyone off the hook. From executive leadership to frontline workers, everyone must play a part – and this book shows the way."

"Required reading for any healthcare leader that wants to set their organization apart from all others. Joe Tye and Dick Schwab bring to life the wisdom of Florence Nightingale. In this fictional story they compel leaders to restore core values like compassion, respect, dignity and ownership as the only way to truly differentiate. The message from Nightingale is loud and clear... 'we must do better than this' and it means more today than ever before."

"People are hungry to rediscover the heart of healthcare. The Florence Prescription goes a long way in helping us on that journey of rediscovery."

"The Florence Prescription initiative in our Emergency Department – one of the two busiest in the state of Arizona – has helped the ED leadership team bring about a palpable change in the environment."

"Joe's message and presentation is so powerful that within 2 days, I have observed positive changes throughout the organization... The Florence Prescription has spread like wildflowers among our employees and the community, and the 8 banners give us a daily reminder of the culture of ownership that we are going to foster in our hospital."

"We gave a copy of The Florence Prescription to each of our employees, and have had a great response… The way Joe has embedded important leadership lessons in a highly readable story makes this a uniquely valuable management tool. The chapter on The Self-Empowerment Pledge alone makes this book well worth reading."
GIVE THE GIFT OF LASTING CHANGE
The Florence Prescription, Self Empowerment Pledge Wristbands & Pickle Free Zone Door Hanger.
Three personal power tools that can change your life and transform your organization at a special package price of only $10. A great gift idea for a co-worker or the entire team.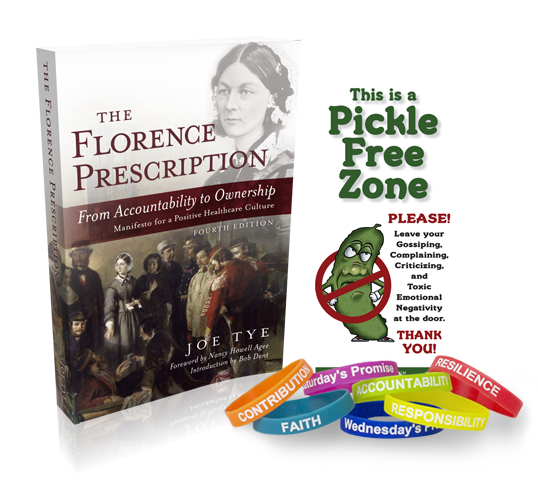 CONTACT US
Please contact us below with any questions, feedback or to order copies of
The Florence Prescription
for your organization. You may also order directly through our Values Coach Store:
https://valuescoachstore.com

Values Coach, Inc.
Transforming People through the Power of Values Transforming Organizations through the Power of People
1000 Jordan Creek Plaza P.O. Box 490 Solon, IA 52333-0490
Phone: 319-624-3889 Toll free: 800-644-3889 Email:
Michelle@ValuesCoach.com